He should be sent packing on this as the quality of analysis and inquisition in the Dail is not good enough. If Kenny is correct, then amendments from the SEnate would not be acceptable to the government. That is simply not the case so the Taoiseach's deductions and rationale are faulty and wrong.
Seanad has not reformed in 75 years, Enda Kenny tells senators
Updated: 16:43, Wednesday, 26 June 2013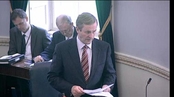 Taoiseach Enda Kenny addresses the Seanad
Taoiseach Enda Kenny has delivered a speech in the Seanad about the referendum to abolish it.
Mr Kenny said the proposal to get rid of the Seanad would create a new political landscape in this republic.

Changing the Constitution was not taken lightly, he said, but the people now must be given the choice.
Mr Kenny said in 75 years the Seanad has not reformed, and despite ten separate reports, nothing has changed.
If second houses are so important for democracy, he asked, why do so many new independent states not have them.
Mr Kenny claimed the supporters of keeping a Seanad are divided, adding that more effective Dáil reform is needed, which has already begun.
He said that further changes are needed in the Dáil with longer debates and four sitting days.
The Taoiseach said that when the changes come about, it will make for a stronger Dáil.
Labour leader in the Seanad Ivana Bacik said that while she will not stop the bill to abolish the upper house, she will not be voting Yes in the referendum.
Independent Senator Feargal Quinn has asked for the debate to be deferred until the Constitutional Convention has time to discuss it.
He told the Taoiseach the decision not to refer the matter to the convention was wrong.